Elizabeth Ablah
is honored with a Brick from Carol Ablah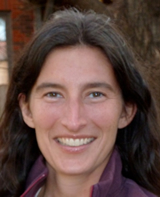 Elizabeth Ablah, as all who know her can attest, is a high energy, always positive and exceedingly bright woman with many interests and a strong sense of who she is and what she wants in life.
While studying at St. Olaf College, she interned at the Media Education Foundation in Northhampton, Massachusetts. Following graduation she worked for the Girl Scouts in Illinois. When she moved back Wichita, she worked in real estate with her father and decided to start graduate school. She refused financial help from her parents -- Amil and Carol Ablah -- and worked three jobs to pay for two degrees: a Masters of Public Health from Kansas University and a PhD in Community Psychology from Wichita State University. She earned both degrees within six month of each other, debt free.
Elizabeth began working at KUMC/Wichita while going to school there and has opted to stay at KUMC where she has had increasing responsibilities in both research and teaching.
In addition to her career, she is a certified personal trainer and has taught kick boxing at Health Strategies. She loves animals and has a dog, Obie, also high energy. She is active with the Sedgwick County Animal Response Team (SCART), an organization that responds to animal needs and assists other agencies in doing so during a disaster.
Elizabeth Ablah is a compassionate whirlwind of a woman and a joy to those who know her.