Alison L. (Davis) Jack
is honored with a Brick from Kenneth Jack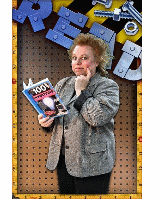 Alison L. (Davis) Jack is a Wichita native born February 17, 1960. During Alison's elementary school years, her father, Robert Davis, was president of Wichita's school board. Alison participated in Wichita's gifted education program, and she volunteered to attend one of Wichita's predominantly African American elementary schools as a part of Wichita's school desegregation effort.
Alison attended Wichita's North High School, and during her junior year her family and she moved west to a new home in Goddard's school district. Alison maintained a straight A honor student status throughout her high school career, and she was selected to give the commencement speech at the Goddard High 1978 graduation exercises. Alison was first chair clarinetist in the Goddard High concert and marching bands. At Alison's church, University Friends Meeting, Alison was active as a youth group leader.
Upon graduating from high school, Alison enrolled at Wichita State University. During her undergraduate years at WSU, Alison majored in education, and graduated with honors in 1983 with a Bachelor of Arts degree. During Alison's freshman year at WSU, she pledged membership in the Alpha Chi Omega sorority. Alison was very active in sorority life, serving as president of her sorority during her senior year at WSU. Alison was and remains a very accomplished singer, singing in WSU's Madrigal Choir. Alison showed her singing talents at Hippodrome during Alpha Chi Omega's performance of selections from "The Wiz", and Alison received Hippodrome's best actress award.
Upon graduating from WSU, Alison entered graduate school at the University of Oklahoma, Norman, Okla., pursuing a Masters of Library and Information Science course of study. In May of 1985 Alison was awarded her MLS with an emphasis in school libraries, and childrens and youth literature. Alison returned to Wichita, reentered WSU's school of education to finish teaching certificate requirements as a student teacher, and secured a position as second grade teacher at Wichita's Franklin Elementary School. Alison taught second grade for two years, and transferred to Franklin's head librarian position, where she served for three years.
Family has been one of Alison's great and enduring accomplishments. Her husband, Kenneth, is an intellectual property law attorney with Davis & Jack, L.L.C. Their son, Samuel, is a junior at Harvard College (class of 2011) in Cambridge, MA, who is concentrating in English. Their daughter, Sarah, is valedictorian of her senior class at Goddard High School. Sarah will attend Alison's alma mater as one of WSU's Dean's Scholars (class of 2014). Their youngest child, Mariah, will start middle school for the 2010-2011 year at Goddard Public School's newly constructed Eisenhower Middle School building in West Wichita. After her years as librarian at Franklin Elementary School, Alison became a stay-at-home mother for eight years. Alison's time at home provided a wonderful nurturing home environment for Sam, Sarah and Mariah during their younger years.
Alison restarted her career as school librarian in 2002, securing a position as head librarian at Eisenhower Middle School. As construction of the new library facility at Eisenhower nears completion, Alison looks forward to getting library operations up and running for the start of school in Fall 2010. Being librarian at Eisenhower will provide an auspicious mix of family and career while Mariah is a student there.
Throughout her life, at church, in college and in her sorority, and professionally, Alison has been a heroine by positively impacting the lives of people around her. Ken in his law practice, Sam at Harvard, Dean's Scholar Sarah, and Mariah as Eisenhower Middle School library helper, are all grateful for the contributions Alison has made to their successes and the quality of their lives. Alison is their heroine.